I don't know when I was told my father was adopted. It seems like it was something that was always known. I think I was in middle school when my grandmother passed on to me the paperwork surrounding my fathers adoption. Many years later, when I started exploring my roots, I began tracing his adoptive family, as they are whom I consider my family.
Bonnie, Bennie, or Bernice?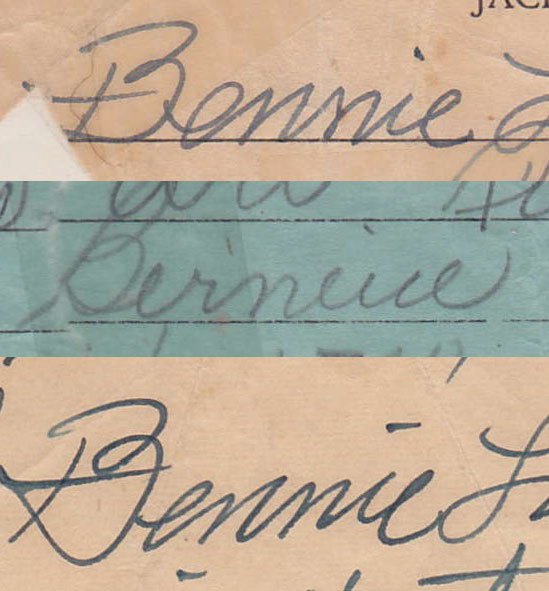 Over the years, I searched for the biological mothers name listed in the adoption paperwork. It was a signature, written in cursive, which looked like Bonnie to me, short for Bernice. I settled on Bernice Louise as her formal name and Bonnie Lou for her nickname. I searched through directories, yearbooks, census records and more, with no luck.
Shortly before my DNA test finished processing with Ancestry, somebody pointed out her name was Bennie, not Bonnie. A very quick search brought up her recent obituary, listing the names of her surviving children and her two youngest siblings.
I quickly started to build a tree for this family to find out what happened in the years before my father was born and after. Once I was satisfied with my research, I reached out to her youngest listed sister in the obituary. Since she had recently passed away, I did not want to reach out to the only surviving child listed. She was surprised for my call and did not remember right away anything out of the ordinary during 1947. She called her other sister, and they put some things from their childhood that started to make sense.
They told me a sad story of a girl growing up on a dryland cotton farm in rural Texas. She ran away with her best friend to Jacksonville, Florida as an older teenager. She lived there for about a year and then came back home. She was living and working in Abilene, Texas as a waitress when she suddenly went back to Jacksonville in 1947. They overheard she had a baby girl that died. My father was born in Jacksonville in 1947. It seemed everything lined up. One of the sisters had a granddaughter who had tested with AncestryDNA already. I eagerly awaited my results.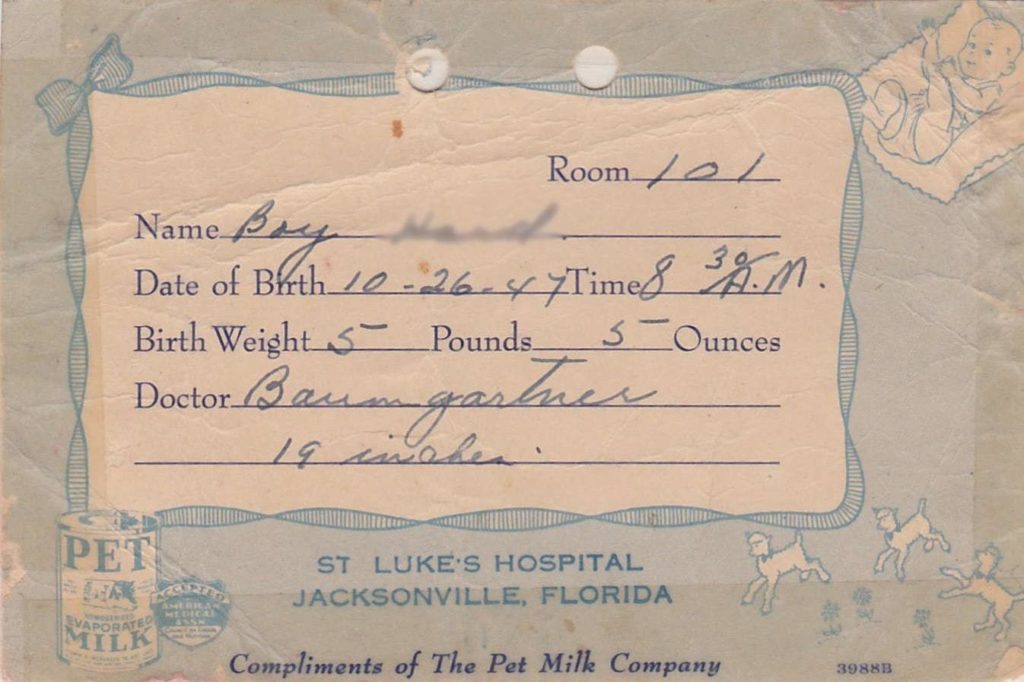 And the mother is…
My AncestryDNA results finally finished processing! I was related to Bennie as her great niece showed up as a relative in my DNA matching list. I excitedly called one of the sisters to tell them good news. I was met with a very cold response. They asked that I not contact the family again and since they told me about the medical history in the family and the genealogy they knew, that should be enough for me. Earlier that week, I mailed a package with a letter of thanks and pictures of my father growing up and of me. I never got a response to that letter but I hope they could sense my gratitude for the information they did give me.
Despite their response, I continued my search. I built out the maternal side of my family tree and built as many DNA matches in to the tree. I turned my focus to my father's paternal side.
Researching west Texas history
Many of the DNA matches who did not match my father's maternal side all had one thing in common: Lamesa, Texas.
I romanticized Bennie met a rugged sailor who was stationed at NAS Jacksonville, fell madly in love, realized she was pregnant and he was gone, off to sea, never to know about his son. In reality, she most likely met a man from west Texas while working as a waitress in Abilene. He is descended from one family who lived in Texas for more than 100 years and another family from Alabama.
This union of these two families resulted in seven sons and one daughter. I have DNA matches from multiple descendants, the closest of whom shares enough DNA to be a half aunt, however, she could also be a full 1st cousin once removed (my father's full 1st cousin). I am positive I descend from this couple and one of their sons is my biological paternal grandfather.
Which Brother Is It?
The fun part about the research is getting to know the family through old newspapers and public records. I was able to build out a very detailed living family tree and connect many DNA matches to this tree and a narrative about the family.
Son #1 – never married and according to family was handicapped and never had children. He was cared for by the family.
Son #2 – married twice and had only one child with his first wife. I am a DNA match to his great granddaughter, but the match is not very close. This would make her my second cousin once removed.
Son #3 – married once and had three children. I am a DNA match to one of his daughters, sharing enough DNA to be a first cousin once removed. I am a DNA match to one of his grandsons, sharing enough DNA to be a 2nd cousins.
Son #4 – married once and had three children. I am a DNA match to one of his daughters, sharing enough DNA to be a first cousin once removed. This cousin tested for me after I contacted her. I was positive her father was my biological father, due to circumstance and names. His nickname happens to be my father's middle name. He even looks the most like Son #4's children. I was shocked and sad when her DNA test did not come back as a half aunt due to the relationship we had built before she tested.
Son #5 – married once and also had three children. None of his descendants (to my knowledge) have DNA tested.
Son #6 – married once and had three children with his wife. He also had another child as well. The oldest of his children shares enough DNA to be my half aunt.
Son #7 – married twice and had five children, total. I am a DNA match to one of his children, sharing enough DNA to be a first cousin once removed.
Daughter #1 – married once and had four children. No known DNA matches to any of her descendants.
Conclusions
I can 100% say I know the identity of my paternal grandmother. I can 100% say I know the family of my paternal grandfather. I am patiently waiting for a descendant of Son #5 to DNA test. When that happens, I will reach out to family of Son #6 and offer to pay for the rest of the siblings to DNA test. If they all test in the half aunt/uncle range, I will know I have found the correct son. For now, I am very happy with this conclusion for myself.