Pat is my very first DNA case. I didn't know it then, but it would be the case that created my love for genetic genealogy. Patrick, or Pat as he is called, was born in the Pacific Northwest, very far from my southern family. He was born during WWII in Aug 1945, to a single mother who quickly married a man that was not his father.
Fast forward 71 years…
Pat always wanted to know his biological father. He had an idea his father was in the military. He had few clues to go on so he turned to AncestryDNA® testing. He tested about 2 years before my test completed. The day I received my AncestryDNA results, Pat contacted me immediately. I had originally tested to find my father's biological family. I know my mother's family very well and quickly realized Pat belonged to that side of my family.
Within a few days, I realized Pat was closely related to my maternal grandmother. He shared DNA matches with both her mother and father's surnames. My grandmother was born in Georgia in 1927 and had two sisters and 5 brothers. I obviously eliminated her sisters as we knew Pat's mother. Her four older brothers served in WWII. Starting with her oldest brother, I researched the military records of Fold3.com to pinpoint where they were during the time period. Only two served in the Pacific Theater. One in the Navy and one in the Merchant Marines.
Military Research
Fold3
is an Ancestry.com site with additional military records that are unavailable at Ancestry.com. In 1973, a fire at the National Personnel Records Center in St. Louis, MO burned 16-18 million official military personnel files. The two branches most affected were the Army and Air Force. The Army lost an estimated 80% of their personnel discharge files between 1 Nov 1912 to 1 Jan 1960. The Air Force lost an estimated 75% of their personnel discharge files between 25 Jan 1947 and 1 Jan 1964.1
The records for the Merchant Marines are almost non-existent. However, I did find passenger records which placed this Great Uncle outside of the United States during the time in question. My focus then shifted to Navy records. Luckily, those records were not affected by the 1973 fire and the Navy has excellent Muster Rolls during this time period.
Following the U.S. World War II Muster Rolls, 1938-1949, I was able to follow my Great Uncle, Rufus, throughout his Naval career. The first record has him located at the Philadelphia Ship Yard in June 1941, when his ship, the USS Vulcan (AR-5) was commissioned. Rufus served on the USS Phaon (ARB-3) and the USS Seiver (APA-233). The 5th of Dec 1944, he is listed on the Report of Changes for the USS Sevier (APA-233) Upon Commissioning2 in Seattle, WA, on 5 Dec 1944 and departed 20 Dec 1944 for the Pacific Theater.3

After discovering Rufus in to Seattle, WA in late 1944, I decided it was time to reach out to my family.
Reaching Out
Rufus married his one and only wife in Sep 1944. They had a total of four children, 3 who are still living. Although I am related, I have not been in contact with this part of the family since I was a child. To protect the privacy of everyone involved, I won't discuss specific details. I did learn a very valuable first lesson with my own family: contact should be made by the person who is searching, not the researcher.
Once the dust settled, Pat's newly found half brother, although very skeptical, decided to test at 23&Me. They chatted and got to know each other over the 6 week wait. Once the results came back, they matched at 19.3% (1437 cM over 24 segments). It was a slow process but all of the siblings have now spoken and are working towards building relationships.
Finding Pat's family was actually the easy part. Becoming a family was the hard part. It's an emotional roller coaster from start to finish for each person who becomes a part of the story. As a researcher, I become complete invested in the family I'm researching. In this case, it was my own family and Great Uncles and Aunts I met once upon a time as a child.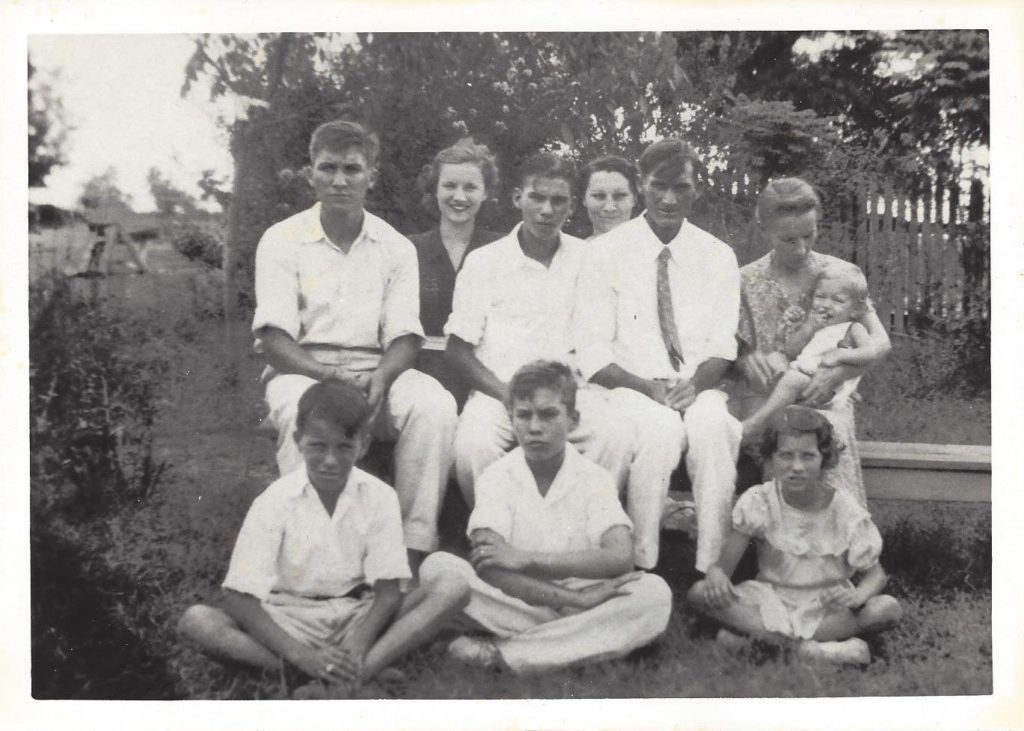 "The 1973 Fire, National Personnel Records Center." National Archives and Records Administration, National Archives and Records Administration, 16 Apr. 2018, www.archives.gov/personnel-records-center/fire-1973.
"U.S. World War II Navy Muster Rolls, 1938-1949," database, Ancestry (http://www.ancestry.com : accessed 6 Jul 2018), entry for Rufus [last name withheld] 5 Dec 1944 Seattle, W; citing "National Archives at College Park; College Park, Maryland, United States; Muster Rolls of U.S. Navy Ships, Stations, and Other Naval Activities, 01/01/1939 – 01/01/1949; Record Group: 24, Records of the Bureau of Naval Personnel, 1798 – 2007; Series ARC ID."
"USS Sevier (APA-233)." Wikipedia, Wikimedia Foundation, 16 June 2018, en.wikipedia.org/wiki/USS_Sevier_(APA-233).
See other Case Studies.