I have a personal project I have been working on for the past 6 months. I spend a few hours each month in our local Espanola Cemetery, Espanola, Flagler County, Florida adding photos and memorials to Find-A-Grave, if they are missing. I walk the rows and check each memorial one by one. I do this alone, in my thoughts, my contribution back to the greater genealogical community.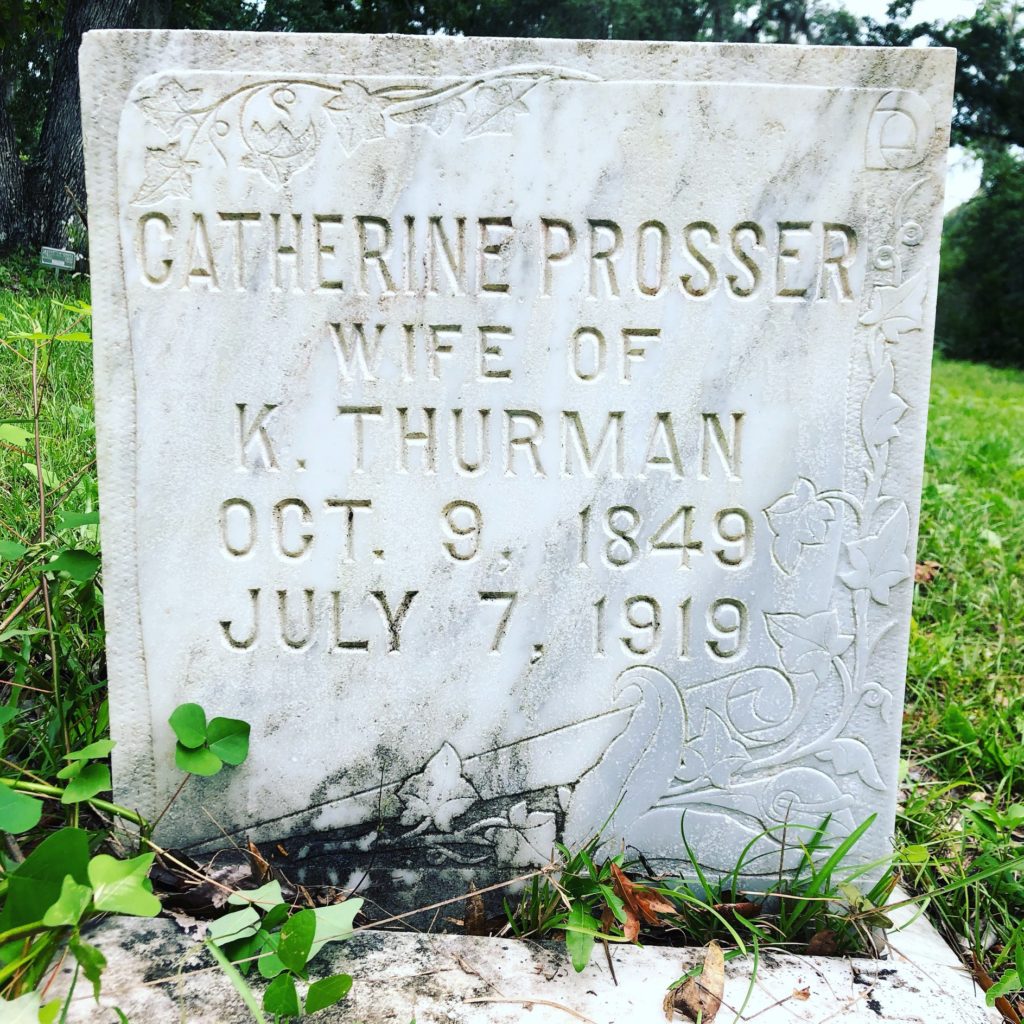 During my last visit, a memorial stuck with me after I left. The memorial is made of white marble, beautifully crafted with ivy down the sides and a scroll above and below the wording. The inscription on the memorial is Catherine Prosser, wife of K. Thurman, Oct. 9, 1849, July 7, 1919. I noted as I searched for Catherine Prosser Thurman in the Find-A-Grave database, there are no other Thurman or Prossers in the cemetery. It has been 100 years since Catherine Prosser Thurman's death and I wanted to know more about her life, and what could have brought her to Espanola, Flagler (St. John's), Florida.
Catherine Prosser Thurman is buried in Espanola Cemetery, Espanola, Flagler County, Florida. My research began with her death certificate. The 1919 death certificates are not indexed at FamilySearch.com, but I was able to locate and view the original. Catherine Prosser is married to Kethley Thurman, the K Thurman listed on her memorial. It listed her birthplace as Illinois, Fulton County, birth date 9 Oct 1849 and both of her parents are listed, Joseph Prosser of Ohio and Betsy Norville of North Carolina. The date of death is 7 Jul 1919 and the cause listed as dropsy. Interestingly, the informant is not listed.
Catherine was born Mahala Catherine Prosser and grew up in Young Hickory, Fulton County, Illinois. She first appears in the 1850 census with her parents, as their oldest child. Catherine lives in Young Hickory through the 1860 and 1870 censuses and marries Kethely Thurman 30th of April 1871. By 1880, Catherine and Kethley show up in the census living in Helena, Johnson County, Nebraska. Sometime after 1880, Catherine and Kethley make the move to German Township, Smith County, Kansas. They are enumerated on the 1885 Kansas State Census, with no children.
Catherine is appointed Postmaster General for her area 1 Oct 1889 and continues in this role until 1891. She and Kethley appear on the next state census in Kansas in 1895, still with no children. Between 1898 and 1900, Kethley is seen in Sumas, Whatcom County, Washington through newspaper articles in both Kansas and Washington. In Whatcom County, 1899, he enrolls a 5-year-old Iva Robinson from Nebraska in to school. The 1900 census shows Catherine, Kethley and Iva still living in German Township, Smith County, Kansas. Iva is later seen as Iva Thurman and she is enrolled in Whatcom County schools until 1910.
Even though Kethley and Catherine make the move to the Pacific Northwest, they keep their property in Kansas, purchasing more in Washington. The 1900 plat map of German Township, Smith County, Kansas shows K Thurman owning 220 acres, adjacent to Joseph Prosser, the father of Catherine. In 1906, Joseph Prosser dies, and his estate is in probate. Catherine and one of her sisters, Minerva, sue the family for their father's property. In 1917, Catherine owns her father's property, in her name and Minerva owns the property adjacent.
1910 finds the Thurman's still living in Washington and in 1912, they're included in the annual city directory. There are no state census records for Washington and with Iva out of school, the records and newspaper accounts go cold. There is an auction for their Kansas farm held in 1917. The next time Catherine appears in any records is her obituary.
Local historian, Claude Sisco Deen owns a website with obituaries transcribed from the earlier editions of The Flagler Tribune. I searched his site for Thurman and found Catherine's obituary:
THE FLAGLER TRIBUNE
Bunnell, Florida
Thursday, July 10, 1919
Mrs. Catherine Mary Thurman, wife of Mr. Ketheloy Thurman and sister of Mrs. J. H. Ludlow, passed peacefully away Monday in the early afternoon.
Mrs. Thurman suffered several years with a complication of diseases and it seemed as if there was no relief for her till death came as a release. Mrs. Thurman was a native of Illinois, her parents later moved to Kansas where she met and married Mr. Thurman. They spent a part of their early married life in Colorado and Washington.
Mr. and Mrs. Thurman were widely known and their friends are numerous, all of whom will be sorry to learn of her death.
Mr. and Mrs. Thurman had but one child – a little son, who was taken from them in early life.
These good people were loved and esteemed by everybody who knew them. They had lived just one year past their golden wedding.
Mrs. Thurman was 71 years of age. Our entire community extends heart-felt sympathy to bereaved ones, but are mindful that words, of condolences, are of little avail in the dark hours of inconsolable grief.
Researching the 1919 microfilm of The Flagler Tribune, I was able to locate her obituary, printed 10 July 1919. Her sister is living in Espanola and she is married to J.H. Ludlow. Searching the 1920 census, I find John H Ludlow and Minerva living with their foster daughter in Espanola. Kethley is not listed in Espanola or Bunnell. I cannot find Kethley on any 1920 census. Kethley is found selling their property in Washington State in 1920.
No accounts exist of the family ever living in Colorado or having a son. Iva is currently lost to time as well, as I cannot find her past 1910. Kethley dies in 1931 and is buried in Illinois.
This is just a little snippet in the life of somebody who briefly lived and died in Espanola. Nothing tells us why she came, but I'm glad she did!