I am a fan of researching newspapers and feel we're very lucky to have amazing, searchable archives of newspapers at our fingertips. Especially when it comes to nights where insomnia is involved and a little light newspaper research might help you fall asleep! In this case, it didn't help me fall asleep, but I did come one step closer to finding the parents of Owen Grimsley.
I have found the OCR (optical character recognition or how images are transformed into searchable words) of digitized newspapers, based on which place actually scanned and created the searchable text, can be bad, which is why I use a variety of newspaper sources, such as Chronicling America, State Historical newspaper archives and Newspapers.com, GenealogyBank.com and NewspaperArchive.com.
My search of North Carolina did not turn up anything new, as expected. I searched with all of the usual misspellings, quotations, etc. This time, I decided to make a random search on Google Books. I hit pay dirt.
Before I really get started on this post, let me thank Jeff Carter for writing Ancestors of Jimmy and Rosalyn Carter. I also want to thank Google Books for indexing and making page 108 available on preview! I now own the book via Amazon Kindle, so you're welcome, Jeff.
A little background on Owen
I've written about Owen Moore Grimsley in the past, and his land in Florida. He's always been my favorite ancestor and he's also a stubborn brick wall. Prior to this research, I had created a very detailed and lengthy timeline on the life of Owen and the research I have done. I also started working on timelines for other Grimsley families from North Carolina. There are several pockets of North Carolina where Grimsley families lived. Using the 1820-1840 census records, I identified households where Owen may belong.
According to every census record and military record, Owen Moore Grimsley was born in North Carolina. That has never been disputed. His age ranged from being born about 1812 through 1818. His grave marker states 1812. My timeline for Owen starts in 1847 when his name is included in the Wilmington Journal's listing of unclaimed mail. His name appears again in 1848 for unclaimed mail and he's listed in the 1850 census, enumerated July 1850, with D. and V.A. Grimsley. He's a shoemaker.
Family records from Florida indicate Owen Grimsley married Tolitha Delsee Martin. The marriage most likely occurred before the 1849 birth of their first daughter Virginia Ann.
Late in 1850, Owen appears in a new newspaper called Spirit of the Age. Spirit of the Age is a newspaper devoted to temperance and family. Owen is inducted as an officer of a new chapter in Weldon, NC. Weldon is quite a distance from Wilmington, but the two cities are connected on the Weldon-Wilmington train track. During this time period, this track is famous for being the longest train track in the country! While in Weldon, Owen buys and sells land.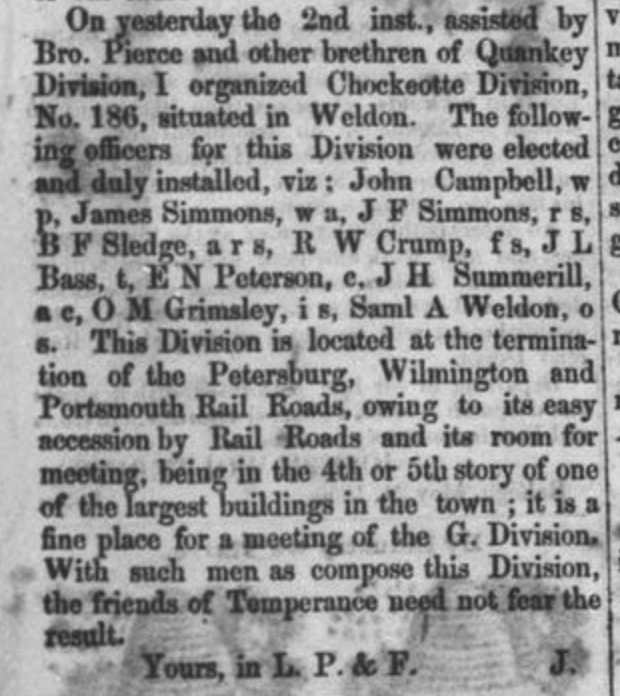 He appears twice in the Fayetteville Observer, once in 1852 and again in 1853. In 1852, the Fayetteville Observer ran a story from the Wilmington Journal. This story reported Mr. Grimsley, formerly of Wilmington, was injured in Weldon when a train trestle under construction, collapsed. In 1853, he's listed as a person receiving goods brought to Fayetteville via the Steamship Southerner.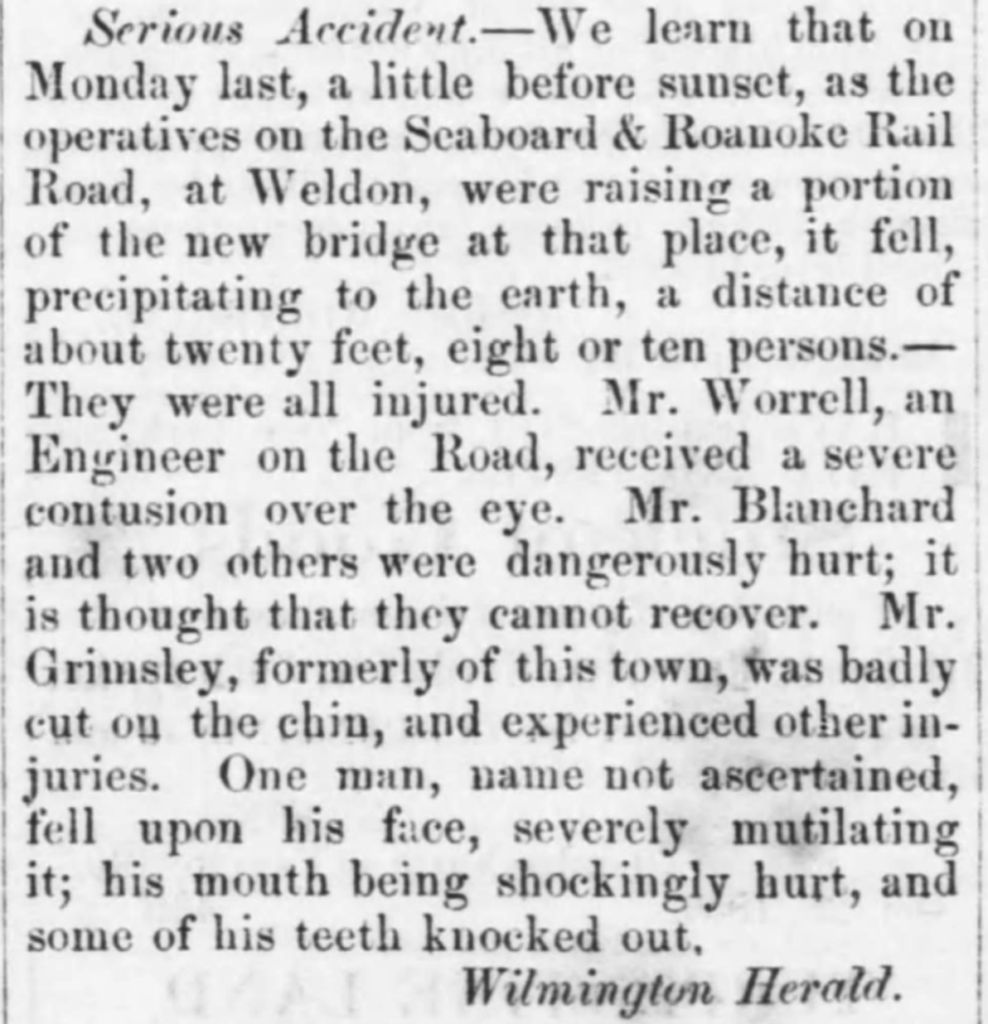 After this period, Owen has moved to Florida with his family. He enlists in the Third Seminole Indian War, appears in the 1870 Putnam County, Florida Census and then enlists in the Civil War. Making a note of his Civil War records, Owen is described as white, 5'10", dark hair, dark eyes, dark complexion.
Say it isn't so, Owen?
Many times when I'm researching newspaper records, I glance over the items I don't believe pertain to the person I'm researching. I typically start my research with a very narrow focus and then widen that circle out, whether by town, then county, then state, or by name and versions of names. For Owen, I've mainly focused my research in New Hanover County, NC and later Halifax County, NC, where I learned he was living right before his move to Florida. While searching Google Books, an Owen Grimsley appears on page 108 of the Ancestors of Jimmy and Rosalyn Carter. He's included in a transcription of a newspaper listing for fugitives wanted for murder Mississippi. Wait? Mississippi?
Jeff Carter writes in his narrative biography about a man named Brady Mitchell Brown. Brady was a hard man, who rounded up runaway slaves and those who were not home after dark. He beat a trusted slave of the Snead family, who became enraged, and went to confront Brady. During this confrontation, Brady is killed. The Brown and Cole family promises retribution and begin searching for them through reward ads in newspapers. They thought the group headed west and they quite possibly did.
In this transcript of the 1841 newspaper ad, is a description of Owen Grimsley: "Owen Grimsley is about 22 years of age, five feet 9 or 10 inches high, weighs about 170 lbs., square, stout build, dark complexion, dark hair, dark eyes, light beard, a shoemaker by trade."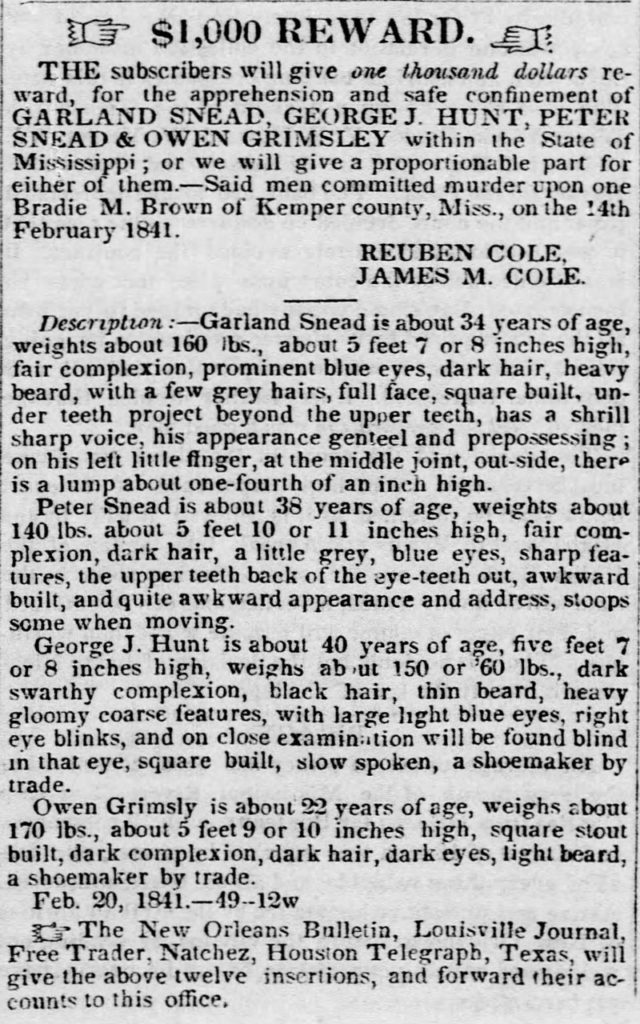 This is suspiciously the same description I already have of my Owen Grimsley. Say it isn't so, Owen?
Meanwhile, back in North Carolina…
Widening that search parameter to all of North Carolina and all of 1840-1844, yielded some interesting results. There are short mentions all over the state of a man named Grimsley who was wanted for murder in Mississippi being found in NC. I didn't pay attention during my previous research as there wasn't a lot of information in those short articles. This article, however, had all of my attention at 2:30 AM: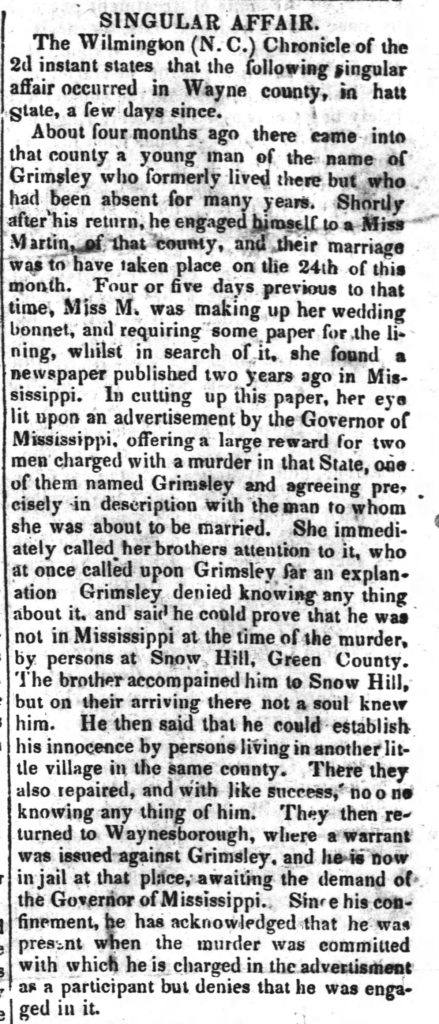 What's interesting is a general search of Grimsley (in all variations) in Chronicling America and DigitalNC did not bring up this article, which was posted in multiple newspapers during 1842. However, Newspapers.com DID find the article above.
It was hard to hide my excitement when unpacking the information this article contained! MY Owen Grimsley married a Tolitha Delsee Martin. I continued searching all newspapers during 1842-47 for more mentions of Owen and his murder rap. I looked for possible outcomes, mentions of being sent to Mississippi or anything tied to this murder case but it seems the newspaper well has run dry, once again!
Stay tuned for my next post and how this single article crumbled a brick wall!