Historical societies are often overlooked and undervalued as research tools. They have genealogical information you will not find anywhere else and are made up of collections donated by families, compiled local histories or other historical artifacts. Exploring the historical society of an area you are researching may reveal new information and break down a stubborn brick wall in your research.
What's available?
The Flagler County Historical Society is typical of many historical societies across the United States. They have a variety of helpful research resources such as:
Original newspapers and clippings
Maps – land maps, fire maps, cemetery maps, soil maps, and plat maps
Compiled genealogies of local families
Family histories written by local historians
Diaries, letters and family photos
Oral histories
Compiled obituaries
Will and other court documents
Valuable histories of the area, the land and its people
Most helpful of all, you'll find people who are local and will know where or how to help you with your research.
My search in local historical societies began over this summer as I worked through my check list of items needed to verify relationships to obtain my Florida Pioneers (Builder & Settlers) certification. I quickly realized my decades-old family tree had holes in the vital information and I needed new research to make those connections.
Flagler County was formed from St. John's County in 1917 and my family also lived in Putnam County, so I am working with three different historical societies to help fill in those gaps.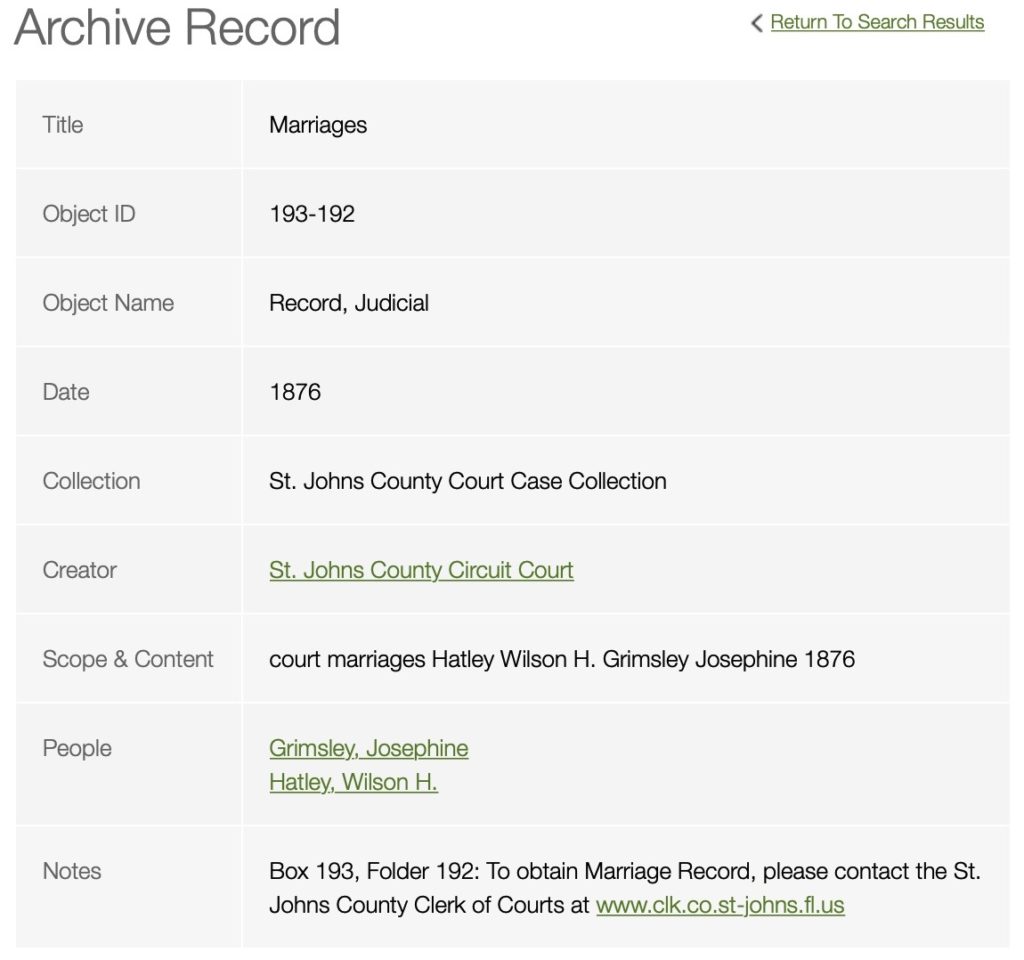 The St. Augustine Historical Society has a beautiful website and a searchable database. Through that database, I uncovered pre-1900 marriage and divorce records, law suits and land information. The database contains both the marriage of Josephine Grimsley and WH Hatley in 1876 and the divorce in 1890.
The Flagler County Historical Society has many maps in their collection. As I located and pinpointed land owned by the Grimley family, the maps became extremely helpful. In addition to maps, there is a compiled Grimsley family genealogy.
Visit in person.
I find the best way to research at any historical society is to visit in person. Give yourself time to take in the collections, do your research and ask questions. Many volunteers are local and know the community well. They can point you in the right direction and possibly help you make contact with long lost relatives. Just remember, many are understaffed and have limited hours of availability. Call ahead and plan accordingly. If you're lucky, a volunteer can open the facility up for you and help you with your research.
Go to PreservationDirectory.com for a searchable list of 4,500 historical societies.
If you can't make it in person, visit their website. Some historical societies are digitizing, like St. Augustine, and a lot of their records are online. If their website is informational, call during open hours and ask to speak with a volunteer who can tell you more about their collections and what they have to offer. Some historical societies have research volunteers who can assist with look ups and local research.
In conclusion, don't discount an area's local historical society. Those dedicated local historians are working hard to preserve the past so future generations can benefit. Make time to visit, call or go online to see what you may be missing!